in reality, these things need to be said
A show by emerging artists that surveys the complex nature of race in the UK, the reclamation of stolen pasts and the celebration of Black British culture

There is a sense of anticipated urgency within the title of a show featuring artists De'Anne Crooks, Arit Emmanuela Etukudo, Zethu Maseko, Rene Matić and Kim Thompson –
'in reality, these things need to be said'
at Backlit Gallery. Immediately obstructing our view of the gallery as we enter is Rene Matić's
the lovers
(2021) –a suspended white flag with the words 'Racial Clash:' printed on one side and 'Probe Goes On' on the reverse. This simple yet commanding piece alludes to a more complicated story from over 60 years ago, a fragment of the history of the local communities which the Backlit's fourth-storey views look out onto. '
The lovers
' Matić refers to were an interracial couple – a white woman from Nottingham and a Caribbean man whose relationship sparked the violent St Anne's race riots of 1958. Matić's choice of language and the accompanying wall text poem are a nod to ongoing racial conflicts and clashes today.
Rene Matić, The Lovers, 2021, acrylic painted on material (detail). Courtesy the artist and Backlit Gallery, Nottingham
De'Anne Crooks's bittersweet screen video 'Great-ish: The Gaslighting of a Nation' (2020) plays in a room nearby. Made during lockdown, in it the artist combines mobile phone footage with low-quality aesthetic and spoken word narration in a letter-form film to their unborn child. The film layers quotidian scenes of domestic life, sequences of film overlapping in superimposed frames. We see Crooks dancing in the kitchen, washing up, waking up, doing their hair, replanting, narrating to the camera and we see their grandma who shares with the camera a story of a microaggression. Part exposé of the Black British experience, part guide on how best to navigate it, the film is full of vulnerability, the narration striking a balance between poignant truths and dreams for generational change.
De'Anne Crooks, Great-ish: The Gaslighting of a Nation, 2020, installation view. Courtesy the artist and Backlit Gallery, Nottingham

Another piece which reaches back to the history of post-war Caribbean immigration (and the history of St Anne's) is Kim Thompson's deeply personal and moving
Robin Hood Chase
(2021).Hung from wooden poles like scrolls, before the three vibrant orange gallery walls in the middle of the main gallery space, paintings of the artist's family members smile out at us. The 11 largescale portraits of the Miller family, dressed in bold 1970s colours and vibrant patterns, depicts the story of a family and of the artist's seamstress grandmother – a Jamaican migrant who clothed her family, friends and local community. The use of delicate shading in the paintings makes each portrait feel vivid and lifelike while also evoking a sense of tranquillity and assurance, reminding us that histories are fleeting but family joy is continued.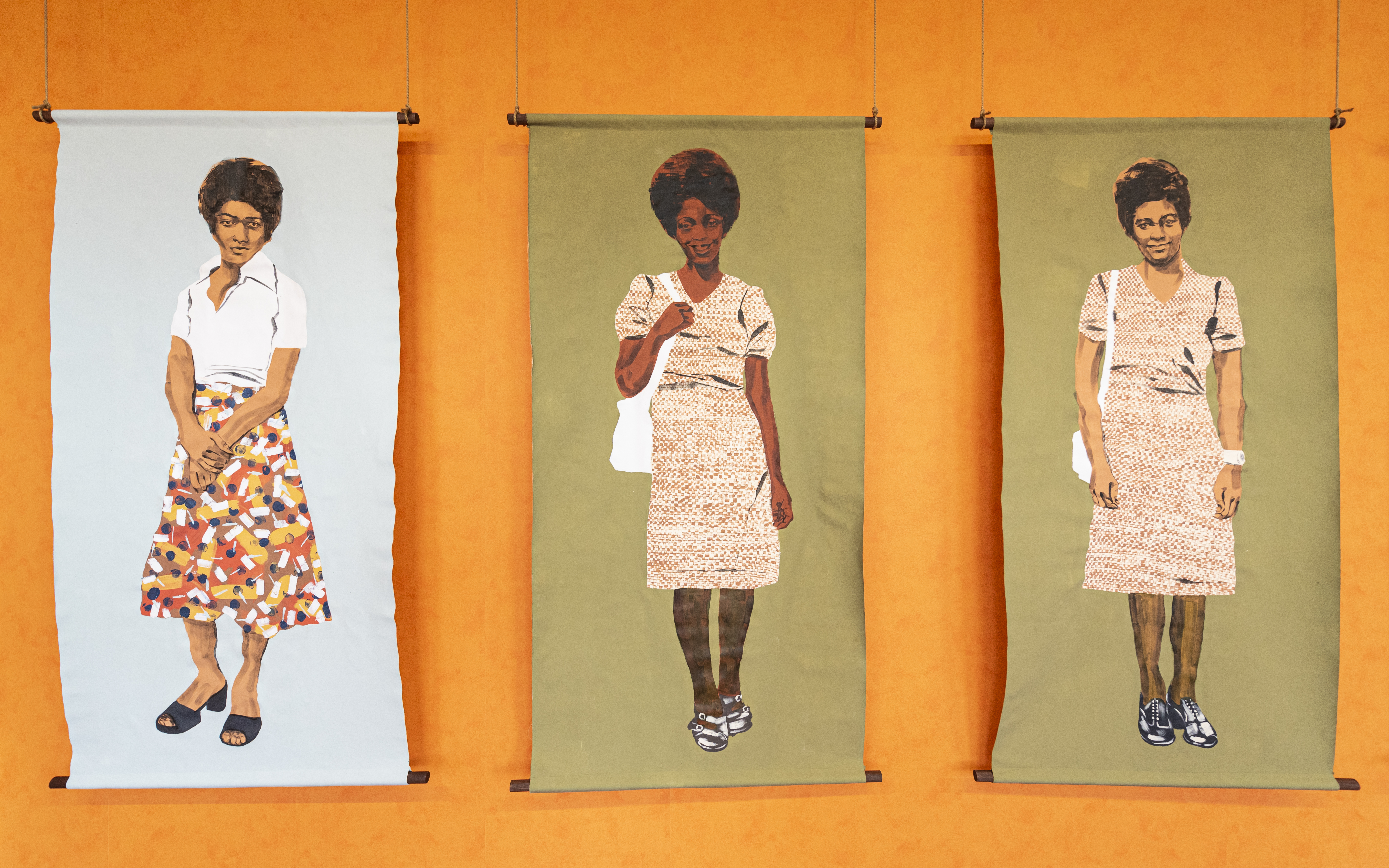 Kim Thompson, Robin Hood Chase, 2021, acrylic on canvas. Courtesy the artist and Backlit Gallery, Nottingham


Contrasting reality with unearthing African spirituality, Arit Emmanuela Etukudo's film '
As Long As There Is Bone, There is Language'
(2021) hypnotises us, gracefully capturing the fear around magic in the majority of Black and African communities. Each scene provides rich mystical imagery. The artist and their reflection move slowly and rhythmically opposite each other – they are the same person but wear different cultural dress; eerie breathing builds tension, a body floats upwards, a seed breaks into an egg. The use of the body and mystical symbolism in interspersed imagery and the artist embedding herself in the work, both physically and through poetic narration, challenges further our distinction of reality and fantasy. The flow of the piece builds rhythm and the grandeur of the imagery feels like a beautiful rebirth or a predestined spiritual awakening.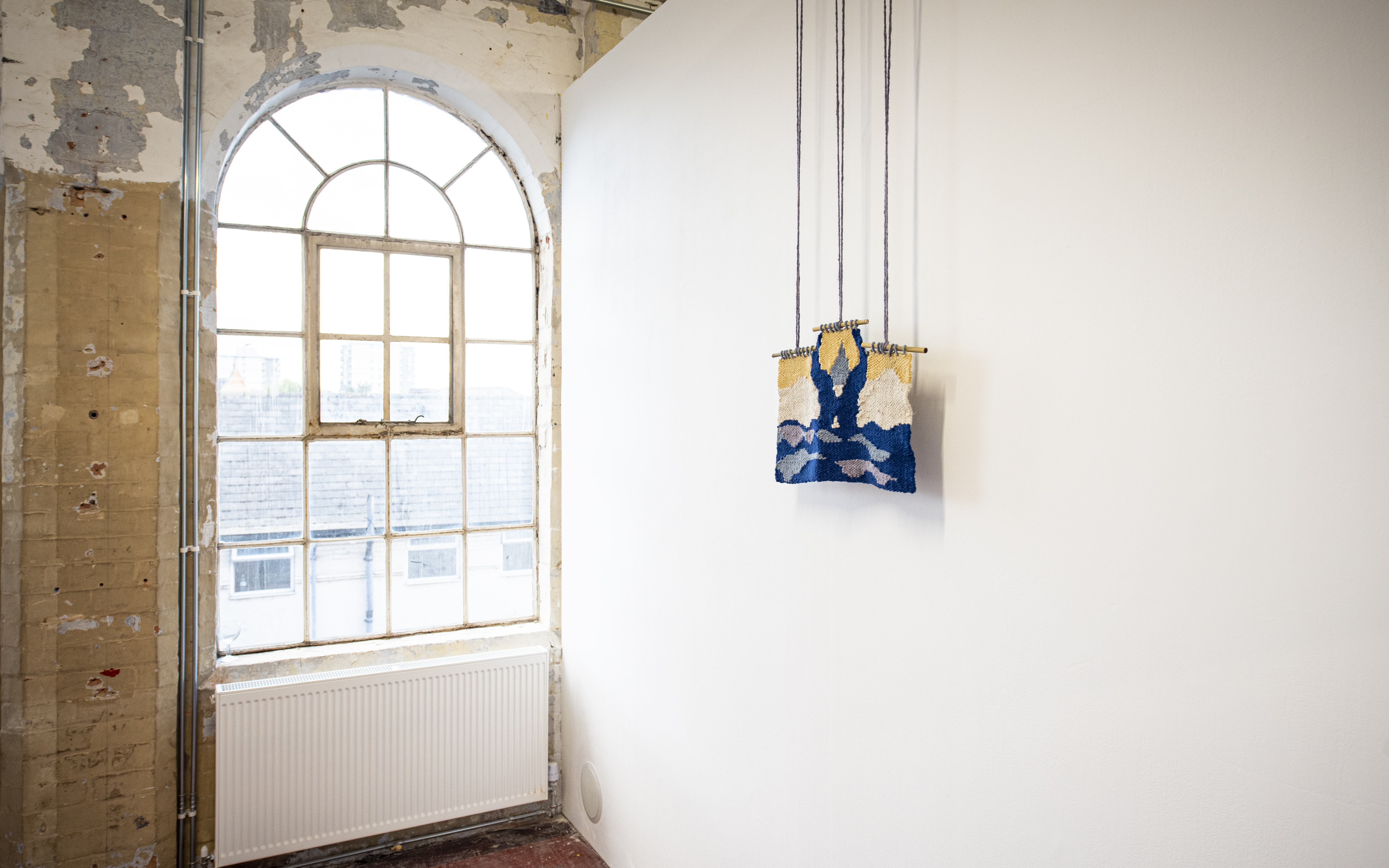 Zethu Maseko, Water Words, 2021, tapestries and Soundscape. Courtesy the artist and Backlit Gallery, Nottingham

In the final gallery Zethu Maseko's
Water Words
(2021)combines soundscape and tapestries. The piece acknowledges the power water has in carrying our histories and future fate, while portraying South Africa's mountains, seas and earth. Each small earthy-coloured tapestry (dyed with handmade mixtures of herbs from Cape Town) hangs down from bamboo poles against the white walls. Listening to the sound of nature, water and angelic song intensifies a sense of ancient catharsis reminding us of nature. Together these tender, intimate works revive forgotten histories and beliefs, allowing for lost pasts to re-emerge, becoming stories told anew.
'in reality, these things need to be said'
is at BACKLIT, Nottingham until 29 August